Benefits of playing Walking Sports activities: Football, Netball & Cricket
Walking Football, Cricket and Netball has become increasingly popular and is suitable for people who may have mobility problems which stop them playing faster paced games. The great thing about this type of sport is that it's open to all – men and women can play, less physically-abled individuals can also join in, and everyone will benefit from getting moderate exercise in a social setting.
The benefits of these gentle forms of sport has seen increased positive health results, weight loss, rehabilitation progress and the opening up of social networks for the participants:
Gentle warm up and exercise
Improve balance, mobility and general fitness
Meet new friends, have some fun
Enjoy the camaraderie and celebrate winning
Play at your pace, age is no barrier
Testimonial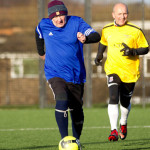 Keith Salmon – As a 73 year old with a serious heart condition, retired electrician Keith Salmon thought his football playing days were well behind him.
"I just love football; it's in my heart, I love the game; love the competition, and have made good friends – they're all smashing lads, its brilliant mate! If I wasn't playing here then I would be just sitting at home, reading the paper or watching the television. Bone idle!"
"I hadn't played for 20 years until I started here. It is tough yes, I've had open heart surgery, I've got atrial-fibrillation, but I've seen my doctor and the cardiologist and he said 'go for it!', so here I am, every Saturday, it's the highlight of my week."