Today – Walking Football, Cricket & Netball 🙂
We now have over 60 members registered, with an average attendance of 28 to 32 at football, which neatly splits into 4 teams. The fun is clear to see and we have members who now play at Port Vale on Tuesday and Stoke City on a Thursday and then at Chesterton on a Saturday, which is another encouraging sign of the progress we are making. Not only that, we have Netball on a Saturday morning and Cricket on a Monday evening.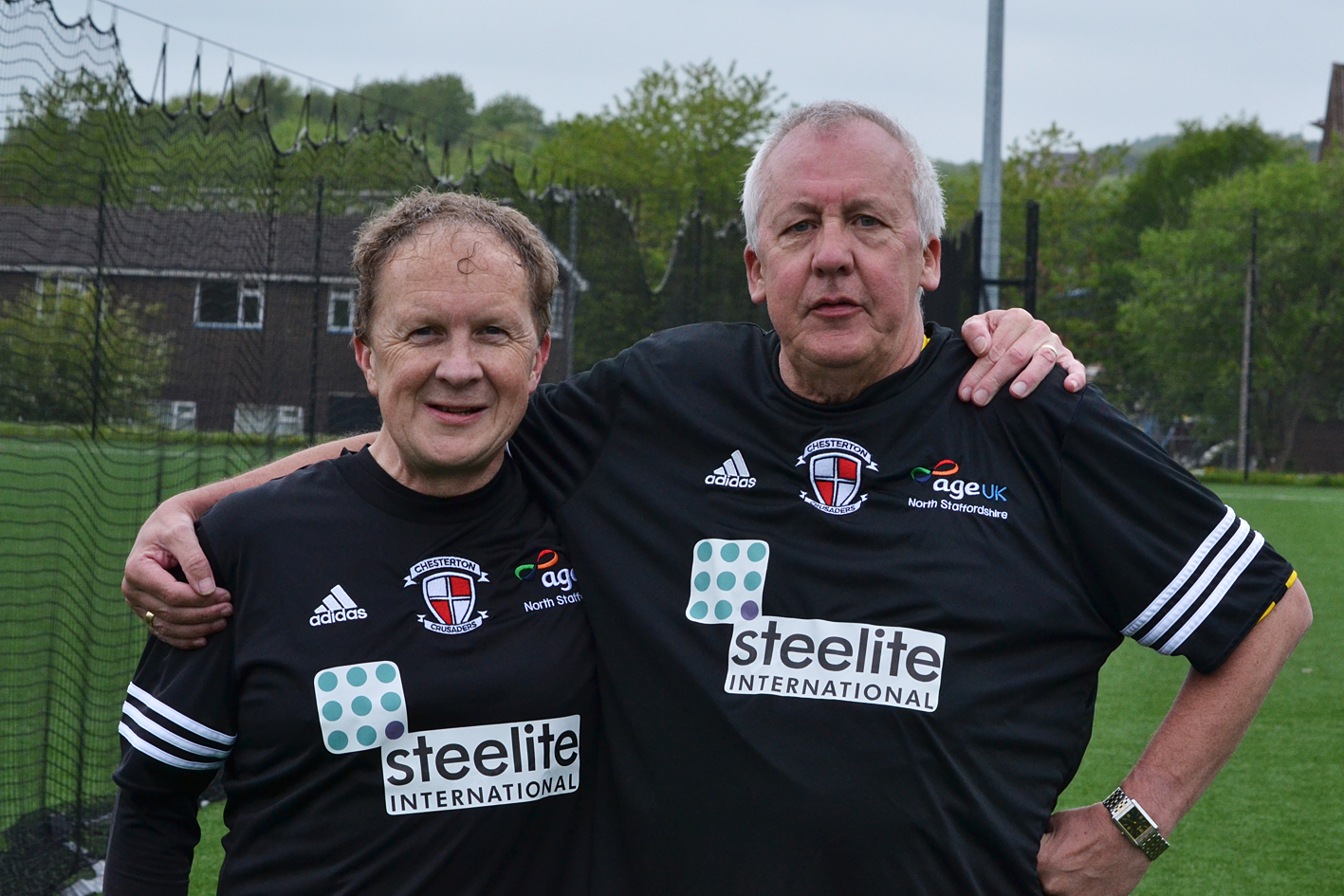 The Club is open to all levels of fitness and walking football is an equaliser for all, no matter where you are starting from. The friendly atmosphere means that everyone soon becomes an active participant, enjoying the banter and reeling at Keith's joke of the day.

Now that we have over 50 members aged over 50 registered, with c.30 playing football regularly, it would be great to see over 50 over 50's playing regularly, taking up all 3 pitches, becoming an ever important part of the community, providing increased benefits to more people.
Increasingly we will continue to build up our network with other communities in Staffordshire and Counties nearby, since 25% of existing clubs are presently located in the mid-west of England – 104 of 461 clubs registered at Walking Football United's website.
Our History
Chesterton Crusaders Walking Sports Club was formed in early 2013, by Tracey Humphries, when she was working as Project Manager for Age UK North Staffordshire. Tracey was inspired by observing a similar programme in late 2012 that was being operated at Winsford Cheshire, in association with Sportscape Leisure, who provided the invaluable coaching to support the benefits of the activity. The Walking Activities, Sports & Social Programmes now operate under the umbrella of WASSPS (website under construction)
In 2012, Tracey's husband, Chris, had recently turned 50 and was fast becoming a couch potato; egged on by his Football Coach son Joe, he decided to give it a go. Having got over the initial hurdle of "I am shattered, how unfit have I become", Chris began to play regularly, and the enjoyment and satisfaction soon became clear, as energy levels, fitness and enthusiasm for doing something other than the gym took hold. Tracey was then able to gain support from her employer at the time (Age UK North Staffordshire) to undertake a pilot programme to see if there was any interest in the activity.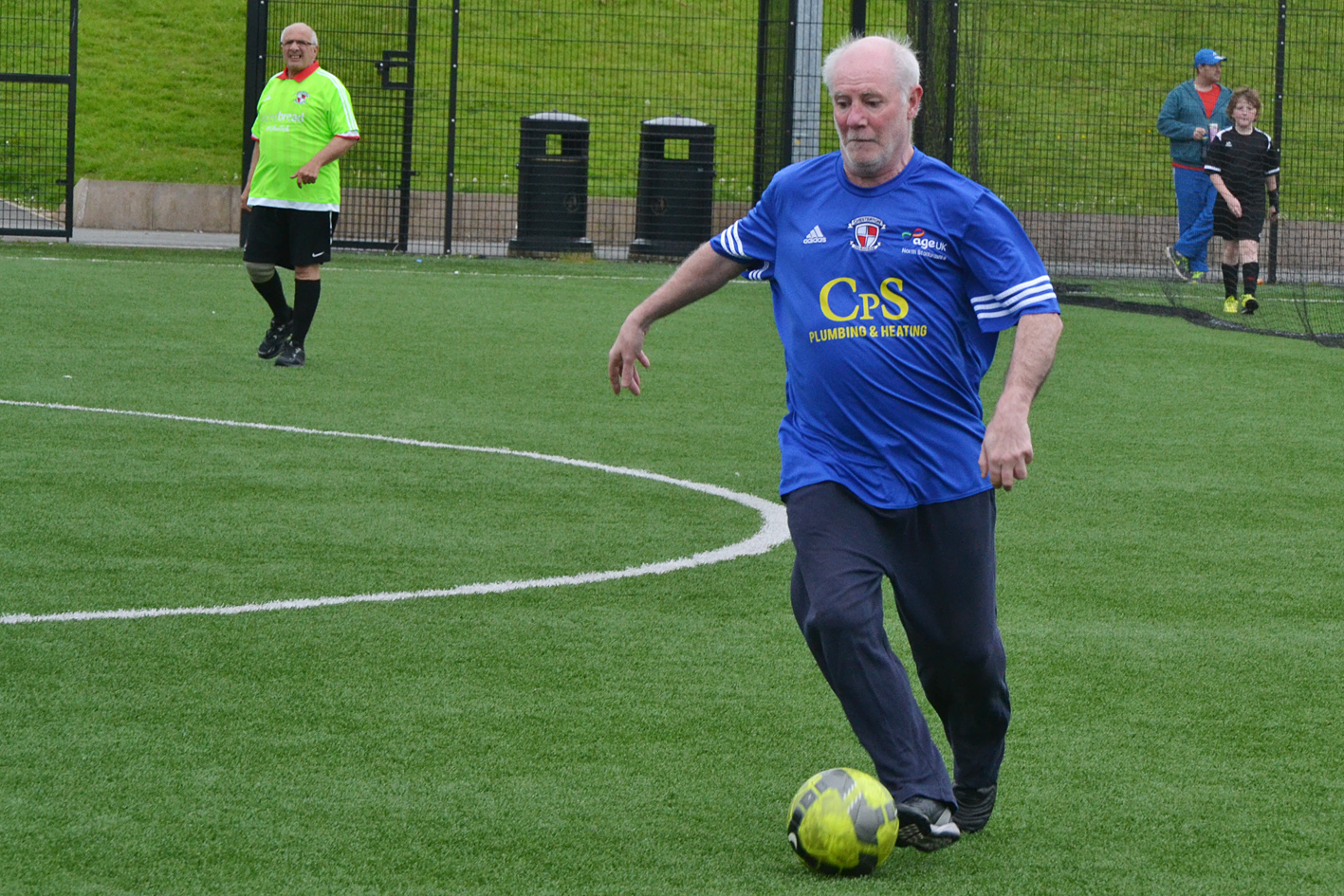 From one member (thanks to Paul Luke for coming along, providing that extra inspiration to do this) others started to join (including Keith who was handed a leaflet whilst watching his grandson play on a Sunday morning) and soon the indoor hall was full, meaning that we could go outside and play on the big man's 3G pitch, like the professionals do!

By the end of 2013 we had about 15 regulars, and in mid-2017 this had grown to 30+ regular attendees, regardless of the weather. 
CCWF is now independent of Age UK and is now associated with WASSPS CIC (Walking Activities, Sports and Social Programmes for Staffordshire as a Community Interest Company), providing Football, Netball and Cricket activities.